Your donation will decorate our GRRCC Holiday scene!
Donations will add lights, ornaments, candy canes, presents and more.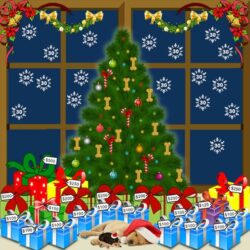 Happy Holidays everyone!  It's time once again for our annual year end Donate and Decorate fundraiser! Beginning Giving Tuesday, November 30th, and continuing through Christmas Eve, December 24th, your tax deductible donations will decorate our holiday scene.  The donation option that you choose will add lights, ornaments, candy canes, presents and other scene options to decorate the tree and the room to complete the setting around our sleeping golden retriever puppy.
GRRCC has been rescuing Golden Retrievers in the Charlotte area since 1991.  So this year, to celebrate the 30th anniversary of GRRCC, we've added a $30 donation option of a large snowflake with a "30".
While GRRCC doesn't bring in as many Goldens as we did in the pre-social media years, and some of our dogs are doodles and friendly mixes, GRRCC is an active rescue. It seems a healthy dog is often re-homed to the general public on Facebook or Craigslist, leaving those with more challenging issues in the hands of rescues.  With your help, GRRCC is up to the task to help any Golden, or Golden mix, and do what we can to get these beautiful loving dogs into a forever home.

We only just recently had our very first fundraiser since the beginning of the pandemic having hosted our Golfing for Goldens fundraiser in October.  So very much like last year our online holiday tree decorating fundraiser this year is more important than ever. Thank you so much for your support and helping GRRCC to provide the medical and other care needed by our Goldens while on their journey to be matched with their perfect forever home.
We recognize that there are many deserving groups that need help for their causes. GRRCC is grateful for anything that you can offer to help.  Thank you again. 
Here are only a couple of cases that were brought into our rescue this year…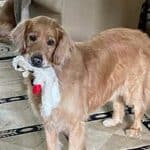 Ace is an 8-year-old goofy, funny, cuddle bug that came into GRRCC with a malignant thyroid cancer diagnosis. Ace is undergoing chemo and will be finished with treatments by Christmas. Ace's medical expenses are currently at $8,600.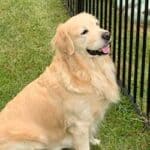 Five-year-old sweetie Ellie May was immediately rushed to the vet upon intake for open pyometra surgery. Poor Ellie May's skin literally rippled from pain and itch due to infection all over her body (she was eventually diagnosed with MERSI – drug resistant staph). Medical costs for this happy girl came to $6,800.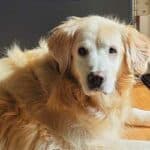 One of the newcomers to GRRCC
Little Lamb Nuala is a 9-year-old breeder girl in need of medical care while she gets her long overdue spay and care for her torn CCL (knee). Estimates for Nuala range from $500 to $5,000.