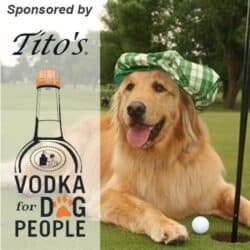 The Golden Retriever Rescue Club of Charlotte held its 19th annual Gene Fitzpatrick Memorial Golfing for Goldens event on Oct. 16, 2021 at Emerald Lake Golf Club. The presenting sponsor was Tito's Handmade Vodka, Vodka for dog people. The weather was perfect for golf. The 36 golfers and volunteers had a terrific time. A sandwich lunch was provided by GRRCC and John and Lucie Gove.
There was a 1st Place tie between two teams captained by Ben Roach and Rick Gross. After a scorecard playoff 1st place was won by Ben Roach's team which also included players Myers Jones, Matt Jones and Reavis Ford. First place net was won by a team sponsored by Natalie Armstrong. The longest drive was won by Ben Roach and the Closest to the Pin was won by Russ Tanis. Congratulations to all of the winners!
A delicious BBQ dinner was provided by Jocks and Jills Sports Bar and Grill. The event concluded with a live and silent auction for many gifts, gift certificates and services that were generously donated by local businesses, sponsors and individuals. A HUGE thanks to all of the volunteers and the dogs who assisted in making the event a success! Thanks also goes to the GRRCC Golfing for Goldens organizational committee headed by Chairman Rick Gross, Co-Chairman Dick Griffin, John and Lucie Gove and Natalie Armstrong.
Volunteers, Businesses and Individual Donors
Thank you!  Thank you!  Thank you!  Without the help and donations of these individuals and businesses our Golfing for Goldens event would not have been the success that it was.  If you know these volunteers and businesses please thank them for all that they do and patronize these businesses.
Volunteers
Ashley & Scott Finney & their Golden RiverDale
Aya Love & her Golden Max
Bethany & Ava Gooch & their dog Champ
Chris Beloni & her Golden Skylar
Kathy Girone & her Golden Holly
Kaye-Lani & her Golden Theo
Kristina Santee
Lauren Zack & her Golden Maggie
Maricel Llanos
Meg Roach
Natalie Armstrong
Oksana Zinchenko & her Golden Yosef
Shari Martin
Sponsors
Tito's Handmade Vodka – Presenting Title Sponsor
Anonymous Donor – C0-Presenting Title Sponsor
American Century – Gold Level Sponsor
Rick and Marsha Gross – Gold Level Sponsor
Tito's Handmade Vodka – Front 9 Sponsor
Tito's Handmade Vodka – Back 9 Sponsor
Tito's Handmade Vodka – (2) Tee and Green Sponsor
MassMutual – Beverage Cart Sponsor
Signature Kitchen & Baths – Tee and Green Sponsor
The Tile Collection – Tee and Green Sponsor
Zapata's Mexican Restaurant – Tee Sponsor
JP Morgan Stanley – Green Sponsor
PetSense – Tee Sponsor
HB Financial
Shari Martin – Green Sponsor
Nancy Truesdale – Tee Sponsor
Bobbie Otto and Larry Marraccini
Carolina Golf Carts
Donors for gifts and prizes

521 BBQ
Balance by Touch Massage
Ballantyne Resort Golf and Country Club
Big View Diner
Burtons Grill
Cabarrus Country Club
Cabo Fish Taco
Cedarwood Golf and Country Club
Charlotte National Golf Club
Chuy's
Coca-Cola
Double Tree South Park
Donors for gifts and prizes (Continued)

Dick Griffin
Dressler's
Duckworth's
Emerald Lake Golf Club
Gary & Vi Morris
Hampton Inn Matthews
Hampton Inn Phillips Place
Harris Teeter
Hawthornes Pizza
Improper Pig
Jim and Denise Buchanan
Jocks and Jills Grill
Libretto's Pizza
Mac's Speed Shop
Meg Roach
Mellow Mushroom
Metro Diner
Natalie Armstrong
Noble Smoke BBQ
Old Sycamore Golf Plantation
PIMCO Mutual Funds
Raintree Golf Club
Red Lobster
Red Rocks Restaurant
Rusty Bucket
Ruth Schenkman
Rick & Marsha Gross
Shari Martin
Showmars
Southbound Group
Spice Asian
Taziki's
TPC Piper Glen Golf
Waggin' Tails
Whisker's Spa
Whiskey Warehouse