Help Us Decorate the GRRCC Holiday Tree — This year called the Holly Jolly Molly Holiday Tree!
Your gift will add lights, ornaments, candy canes, presents and more to our holiday scene.

Thank You!!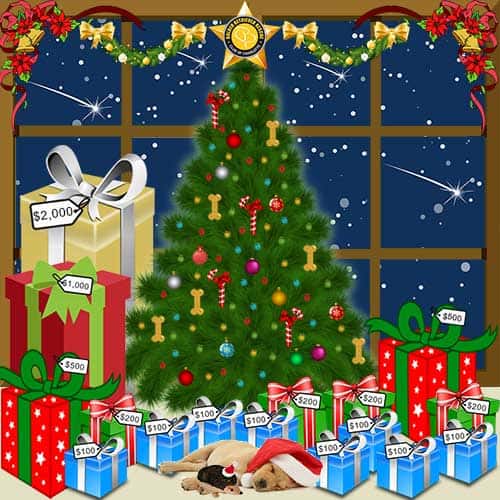 GRRCC would like to extend a HUGE thank you to all of you that Donated and Decorated our Christmas scene.  Thanks to YOU we raised $9,005 to help us with our medical costs and other expenses.  Like all of you, we hope that 2021 will be a much normal year and that we'll be able to meet our friends once again at events like the St Patrick's Day parade, Golfing for Goldens, Dunk Your Dog Day and our Tennis Ball Raffle and Picnic.  Happy Holidays to you all and GRRCC would again like to express our sincere gratitude to those of you who were able to donate during this very challenging year!  Please stay safe and healthy and see you all soon!
Please click on the scene to read all of the comments from those that helped us decorate our scene.
There is no need to tell, or remind, anyone just how much of a struggle 2020 has been for families and businesses.  This pandemic has shut down anything that gathers people together (wow did we miss the St. Pats parade!). This year GRRCC was unable to hold our usual annual fundraising events like Golfing for Goldens, Dunk Your Dog Day and Tennis Ball Raffle.  Also cancelled were Belk Charity Days at South Park, North Lake and Carolina Place Malls.
Fortunately, social distancing will allow us to hold our online holiday tree decorating fundraiser and this year it is more important than ever. While we don't bring in as many Goldens as in the pre-social media years, and some of our dogs are doodles and friendly mixes, GRRCC is an active rescue, saving 23 dogs in 2019 and 24 dogs so far in 2020, mostly with medical conditions.  It seems a healthy dog can be rehomed to the general public on Facebook, leaving those with undesirable issues in the hands of rescues.  With your help, GRRCC is up to the task to help any Golden or Golden mix, and do what we can to get these beautiful loving dogs into a forever home.  This year's Donate and Decorate Fundraiser will run from Giving Tuesday (12/1) to Christmas Eve (12/24).  Thank you again for your support!


The GRRCC 2020 Holiday Tree is dedicated to sweet, sweet Molly. Molly (estimated to be 8 years old) was a stray in Concord, NC who came into GRRCC obese, storm phobic and heart-worm positive. But the BEST word to describe Molly: sweet. Every person who met Molly during transport, while at the vet, on a walk, in her foster home – everywhere – commented on Molly's sweetness. We lost Molly to hemangiosarcoma before she could be adopted. Sweet Molly was oh so loved in her foster home and knew only love and comfort during her short life at GRRCC.
Here are a few of those deserving GRRCC dogs currently on the mend in their forever homes:

Gabe A sweet old man who is partially blind (retinal degeneration), had a cancerous (melanoma) growth in his mouth, and suffers from severe arthritis needed $5,200 in medical procedures.

Brody An active lab mix with life-long debilitating skin issues was diagnosed with MRSI (drug resistant staph) then treated with a medicine so strong that gloves were required to administer.  Medical costs were $4,900.

Hope A sweet young blonde required knee (TPLO) surgery for the second time (the first knee was fixed before surrender) at a cost of $4,400.
Eva This sugar faced princess required surgery to repair an inverted vulva.  The surgery was extensive because of infection.  Medical costs were $3,000.

Willow 100 lbs of love, had difficulty walking with decreased muscle mass after being left in a confined space without exercise.  Requiring $2,500 in medical expenses, Willow has regained strength after losing weight with the help of underwater treadmill therapy.

Sadie is a little peanut with skin issues who is very loving but timid.  Sadie's medical expenses were less than most, but her adoption took longer than most due to her fearful nature and the fact that Sadie cannot eat a single morsel of food that is not on her prescribed allergy diet.

Captain is a beautiful young man who was evaluated for hip and knee problems which surprisingly turned out to be a result of cardiac issues.  Captain had surgery (PDA) to repair abnormal blood flow between arteries.  Medical costs totaled $6,600.
We recognize that there are many deserving groups that can use additional fundraising this year.  GRRCC is grateful for your help as we all weather this pandemic storm.  Thank you.