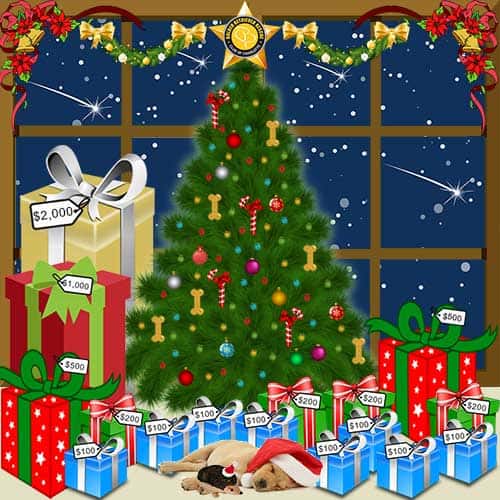 $9,005 raised!  Thank YOU!
Decoration
Name
Comments
1 Light
Randy Miner
In honor of Sunny
1 Light
Shellie Miner
In memory of our Sunny and in appreciation of Brody
3 Lights
Leigh Ann Combs
Thanks to all the volunteers who work tirelessly to help our Golden Retrievers! Merry Christmas!
1 Light
Carol Weber
I miss Bart and Duke so much
Traditional Ornament
Ali Hoce
Tree Topper
Rick and Marsha Gross
In loving memory of Wylie, Barkley, Brinkley and Lucky
3 Lights
John and Kris Burke
In memory of Sean adopted from GRRIN and Lady Sarah and Blossom adopted from GRRCC
3 Lights
Becky Kaufman
This is in honor of our sweet Champ who was adopted through GRRCC when he was 5. He will be 16 on Dec 28th and we are crossing our fingers that he makes it.
Traditional Ornament
Paula Barr
In honor of all the volunteers who spend so much time saving these precious souls. And in special memory of Hope.
Traditional Ornament
Brian and Linda Johnson
In loving memory of our precious GRRCC Goldens who await us at the bridge
Window Decoration
William Krupicka
Window Decoration
Mary Monfort
Traditional Ornament
Jennifer Lowe
Thank you GRRCC! We love our Nick!
3 Lights
Catharine Lees
In memory of the 3 Goldens I was blessed to adopt from GRRCC over the years, Sophie, Jack and Bailey
Traditional Ornament
Leslie Anne Washburn
In honor or memory of all our rescues
$200 Present
Ellen Langford
To thank GRRCC for helping Captain
Window Stars
The Gooch Family
In memory of our boys — Trey & Lopez
3 Lights
Krystal LaPrad
3 Lights
Cindy Riddle
In memory of my three beautiful Goldens - Cassie, Noelle and Hoover. Thank you for all that GRRCC does to rescue and rehab these loving companions.
3 Lights
Candice Usher
In honor of Meg and all the volunteers!
3 Lights
Julia Reese
In memory of Tessa and in Thanksgiving for Josie and Bella!
3 Lights
Dru & Scott Meier
In honor of all our goldens, those still with us & those waiting for us at the bridge
Dog Bone Ornament
Dru & Scott Meier
In honor of our wonderful GRRCC volunteers
3 Lights
Sarah Dowless
Merry Christmas and thank you to all of our volunteers, foster homes and adopters! And in memory of sweet Molly and all of our Goldens that have crossed the rainbow bridge.
3 Lights
Lou and Debi Lambruschi
In memory of Scott and Sarah's baby, Merlin
Window Decoration
Susan Stephens
Thank you for our sweet Abbey, Pete, and wild Walter!
$100 Present
Kathy Girone
In honor of Dora, Molly and Maxie
Traditional Ornament
Cindy Adkins
Donated in honor of our precious Duke from GRRCC. Also in memory of his brothers and sister who have passed -Arrow, Casey, Molly, Teddy Bear and Chance (all Goldens).
$100 Present
Deon and Todd Bowen
To a wonderful organization that helps the pups!
1 Light
Sharon Carter
Candy Cane
Shari Martin
In loving memory of Peaches, Millie and Mason - my 3 GRRCC fur babies who have crossed Rainbow Bridge
Traditional Ornament
Dawn Taylor
Great cause!
Window Stars
Kris and Jeff Potts
In memory of Woody
$1,000 Present!
Jenny Cavenaugh
$200 Present
Brooke and Kyle Voorheis
In memory of Bailey
10 Lights
Bobbi Otto and Larry Marracinni
In memory of Buffy, Sasha, Bernie and Luci
$200 Present
Lessie Davis
$500 Present
Kurt and Sarah Gauger
Candy Cane
Frank Grill
Dog Bone Ornament
Lynnea Pulver
In loving memory of all of my goldens (and golden wannabes) Gracie, Lewis, Gunnar and Diego, and in honor of Logan, Chloe and crazy Paisley. Thank you for all you do for the goldens!

$100
Tammy Myers
In honor of Lucy
1 light
Judy Lekoski
In honor and loving memories of all the goldens who have enriched my life over the years
$100 Present
Mike and Norma Rowe
In memory of our two golden babies that have crossed the rainbow bridge, Tasha & Boris. And our two current GRRCC golden babies we now have, Maiya & Ben. Both are 13. Grateful that we can donate. Mike & Norma Rowe
$100 Present
Catherine Caddy
In memory of Lilly
$100 Present
Joni Deditch
God Bless you all and the Goldens!
Dog Bone Ornament
Kathleen Marcello
In memory of our beloved Maggie (formerly Breezy)!
Thank you GRRCC for all you do.
Traditional Ornament
Barbara Buckridge
Candy Cane
Eileen and David Shleffar
In memory of sweet Blake, aka Bubba Bear, who graced us this year with his silly grin and his absolute joy for life
$200 Present
Nicole Murch
Merry Christmas!

$500 Present
Lisa and Steve Haas,
and Jackson
Thank you to all associated with GRRCC for the fine work you do.
Our donation is in loving memory of our beloved Ryder.
Candy Cane
Jeanne Truslow and jojo
Jojo and I thank the club for all the joy she has brought to us and the 5 goldens I have adopted before her. Summer, Cheyenne, liberty, Nikki and tikki! Merry Christmas! We are so glad to donate to this worthy cause!

$100 Present
Jim and Carol Adler
Thank you to all of the GRRCC volunteers!
Traditional Ornament
Valerie Sancibrian
In memory of Ginger, Riley, Daisy, Hayden and Emma, all our sweet Golden's, we miss you all so very much. Thank you for all you do GRRCC!
3 Lights
Jason Lewis
A thank you to all the amazing volunteers who make this organization so great!
Traditional Ornament
David Collier
Thank you for all you do for these wonderful dogs
Traditional Ornament
Wendy Brtalik
Happy holidays and thank you for all you do!! *In honor of Bailey and Cooper*
Traditional Ornament
Katherine Leveque
3 Lights
Laurie Shleffar-Atencio
$100 Present
Linda & Brian Johnson
Happy holidays to the staff and rescued Goldens in their care.
Thank you for your dedication to the breed. They are such
wonderful dogs who rapidly become treasured family members.
We were blessed to have had Jake, Rosie and Hannah with us,
well as a number of foster Golden's. They all enriched our
lives in so many ways.
Dog Bone Ornament
Kelly Garity
In honor of all the foster families! In honor of Jesse and in memory of our sweet Trevor!
$2,000 Present!!
Little Mountain Vet Clinic
3 Lights
Richard Varterasian
Window Stars
Mike and Wylyn Doherty
For our GRRCC dogs Clancy, Coal, and Phoebe - all bright stars in our lives.
3 Lights
Cathy Fortwengler
In memory of my beautiful golden Bentley who I lost in 2020
Dog Bone Ornament
Michael Ellis
Thanks to all of the volunteers!
Dog Bone Ornament
Meg Roach
Thank you to all the GRRCC volunteers. I appreciate their dedication to the club's mission of rescuing and rehabilitating these beautiful dogs & helping find their perfectly matched Forever Families.
3 Lights
Meg Roach
In memory of my sweet GRRCC boy, Jack.