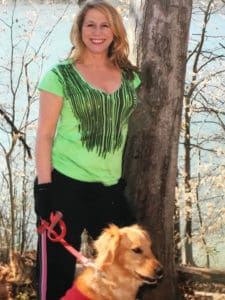 A Frontline working Huntersville nurse, and a forever home adopter of a GRRCC dog, Sandy Sarantis was sadly taken too soon and became another victim of Covid-19. Thank you Sandy for your selflessness and dedication to your job helping others and for opening your home to give so much love to Bailey. You will be missed by your family, your friends, your patients and Bailey. Here are a few words from Sandy's sister-in-law.
"With profound sadness , I am writing this to let you know that my beloved sister-in-law Sandy Sarantis passed away, a victim of COVID-19. She was the most amazing and beautiful person inside and out and fought a courageous and valiant battle. Please pray for our Frontline healthcare workers as they risk their lives every day as do the brave first responders.
As a truly remarkable nurse , Sandy's calling was to help and care for people and even though she was fearful of the virus , she would let not let that paralyze her and continued to help her patients as she felt suffocated in the PPE.
Sandy loved her family, her Bailey girl , her boyfriend and her friends with all her heart. She loved God and Jesus, nature, hiking, travel, adventures, wine tastings and pampering her family and friends. Please pray for us as we are heartbroken."
Please remain vigilant in your safety precautions and do not let your guard down during these phases of reopening.
Here also are links to her Obit, as well as stories aired on both WSOC and WCNC.