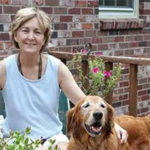 We recently had to say goodbye to a dear friend and long time volunteer of GRRCC, Dottie Purnell. We will miss her smile, her quick laugh and of course all of the time that she contributed to GRRCC. She always made herself available to us and selflessly gave us her time, energy and her presence to so many GRRCC events. We hope that she is now reunited with her husband Tom and all of the fur babies they gave such a wonderful forever home to.  GRRCC will miss you Dottie Purnell.
Here is Dottie's official obituary:
Dorothea Anne Leigh Purnell (Dottie Ann) died at the Legacy Heights Senior Living Community on April 18, 2020 in Charlotte, NC, due to complications from Alzheimer's. She was 68 years old.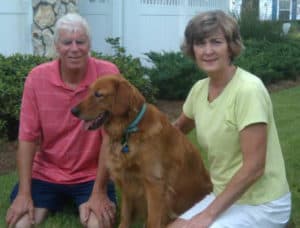 Mrs. Purnell was born on December 29, 1951 in Philadelphia, PA to Joseph and Dorothy Leigh formerly of Clifton Heights, PA. She graduated from the East Stroudsburg University of Pennsylvania with a degree in Philosophy in 1973. She married Thomas Purnell in 1995. The Purnell's moved to Roanoke, VA and eventually to Charlotte, NC, where Tom worked as a golf professional at various country clubs in the area. Dottie worked in computer sales with several large corporations, traveling and training customers on technology products. Dottie was active in the Golden Retriever Rescue organization and operated a small dog day care facility in her home after retiring in 2012.
Mrs. Purnell is survived by her brothers and sisters-in law Joseph (Phyllis) J. Leigh, Jr, Williamsburg, VA, and James (Barbara) F. Leigh, Downingtown, PA, and her beloved golden retriever, Copper. She was preceded in death by her husband, Tom.
Mrs. Purnell will be buried in a family plot with her husband in Ligonier, PA. No services can be scheduled at this time. In lieu of flowers, please make donations to the Golden Retriever Rescue Club of Charlotte, PO Box 471931, Charlotte, NC 28247 (704) 348-1573.