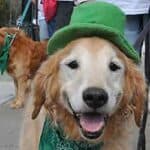 Hello GRRCC friends and Happy St Patrick's Day!! We sure do miss being a part of the Charlotte uptown parade, as do so many other folks. Whether you were part of the festivities or just a happy family watching from the sidewalk, it is a part of the fabric of our Club as we've been a part of the parade for over over a decade.
A big THANK YOU to all you folks that sent us images of you and/or your dog(s)!!
So until we can see each other again next year, Happy St. Patrick's Day!!