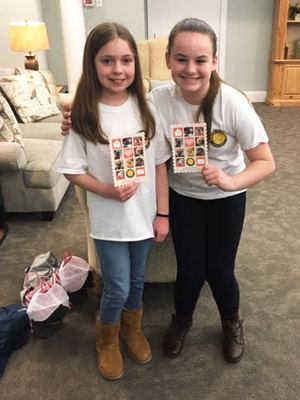 Every year, we (GRRCC) honor the families that opened up their hearts and homes to adopt one of our rescued dogs.  We pitch in and bring food and drinks and get to thank them in person and to hear how these lucky dogs are getting along in their new forever homes.  We also have a video made with images of  the dogs as they were going through our foster families as well as from their new homes.  We call it our Have a Heart Party.
This year was a bit extra special, though, as two young girls and close friends, Emma Smallwood and Sara Moody, showed us that they "Have a Heart" too!  Emma and Sara, who both have a love of dogs, and especially Goldens, decided that they wanted to help us.  So Emma and Sara did a Fall Apple Cider and Bake Sale and raised a total of $113.50 for GRRCC. We invited Emma and Sara to our Have a Heart party with a special invitation and gave them each a "Thank You" bag of goodies that included some candy, dog notecards, a GRRCC hat and a Starbucks gift card.
So what can $113.50 do for our rescues you ask? $113.50 is enough to pay for 275 days of Tramadol pills to keep a dog from being in pain from cancer or arthritis. It could also pay for 4 dogs to be vaccinated for Leptospirosis or even pay for 40 Apoquel tablets, which is two rounds of treatment for itchy skin.
Thank you Emma and Sara for your hard work, big hearts and for helping GRRCC with some very much needed funds that will go to the medical costs for our rescues.  You both really do "Have a Heart"!