Thank You!  You Helped Us Decorate our Holiday Scene.
Your donations added lights, ornaments, candy canes, presents and topped off our Christmas tree with a logo star.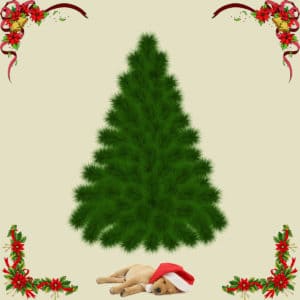 Our very first Year End Holiday Christmas tree decorating campaign, "DONATE and DECORATE", has concluded and GRRCC just can't thank you all enough,…but we'll try,…THANK YOU ALL SO MUCH!!!
Our holiday scene of a tree, and sleeping Golden puppy, started out looking like the scene on the left.  We had 52 donations that totaled $4,705!!  These funds will be such a huge help for us, as we had a couple of dogs that required some specialized medical procedures that generated some very large medical expenses this past year.
Every rescue has to make very difficult decisions when we access the health of a dog coming into the rescue.  Depending on their age, their condition and expected expenses, we must decide what's best for the dog and the rescue.  You can be assured that GRRCC will do anything within our capabilities to ensure that all of rescues are given the chance to receive the best medical treatment and a hope for a new life with a forever family ready to shower them with love.
Your donations, no matter how small, help in more ways than you can imagine and we could not offer this without your help.  Again, thank you and GRRCC wishes you, your family and your fur babies a healthy, safe and prosperous 2019.
Amount
Name
Comments
$100
M A Bachman
$100
Dru Meier
25
Paula Barr
$250
Brenda Ferrell
$50
Michele Ammons
In memory of Hope( former Emma Lee) who crossed the Rainbow Bridge today and honor of Tyler who reminds me every day, why we do this.
$100
Melinda Coile
$100
Lauren Incorvaia
$25
Bonnie Henry
$200
Craig and Courtney Teasley
In memory of Shelby, Doc, and Marley. All three loved and adopted from GRRCC.
$50
Jennifer Dougher
Gift in honor of Mike, Sally, and Eli Mowrey
$100
Cynthia Stringham-Smith
In honor of Tanner and in loving memory of Jake, both GRRCC rescues!
$100
Susan and Kate Merrill-Jennings
Kate and I are so grateful for all of you at GRRCC!
$100
Alison Rowe
$100
John & Christie Hartlove
$50
Jamie Marlow
$50
Jeanne Truslow
Merry Christmas and thanks for sending us Jojo ( Joy). We are blessed to have her with us this Christmas and fill the hole our Tikki left in our hearts this summer when she traveled to rainbow bridge. Jojo is my 6th rescue from the club. Such a wonderful organization!! We are blessed!
$25
William Kripicka
$300
Susan Lurie
In honor of all the volunteers from Barney Rubble (adopted 2007) and Bamm Bamm Rubble (adopted 2015) and in loving memory of our goldens: Trey, AJ and Taylor.

$25
Denice Lyon
In Memory of "Rustina" Herndon-Lyon
$50
David Collier
In honor of Trapper and Hawkeye, our deceased rescues from GRRCC and Jayne Molnar
$200
Susan Fossett
$100
Kelly Brugh
This is in honor of my fellow golden lover, Susan.
$75
Dru Meier
In loving memory of my precious GRRCC foster/adoptee, Bobo, who blessed our family with 14 1/2 years of love & joy & who will live in my heart forever.
$75
Dru Meier
In honor of our beloved rescues, Lexi & Doozle, without whom life would be much less merry!
$100
Kristine Potts
$50
Kelly Gervais
This donation is in honor of our boss, Diane Blanchfield
$50
Jennifer & Ben Lowe
For Nick!
$100
Carol Reinard
Donation in memory of Jayne Molnar, owner of One Lucky Pup, who passed away November 6,2018.
$100
Elaine & Joe Bruno
A little something to use toward Mikey's expenses.
$200
Rick and Marsha Gross
Merry Christmas and a joyous New Year! Rick, Marsha, Lucky,
Huckleberry and Molly!
$100
Meg Roach
In loving memory of my sweet GRRCC rescue, Jack, and in honor of all the volunteers who help save these wonderful dogs. Without the volunteers there would be no GRRCC! I am forever grateful. Thank you.
$200
Mark Petersen
In memory of "Jack", my golden rescue from GRRCC back in 2006. He gave everyone he met the sweetest memories. I will never be without him in my heart. I had this opportunity thanks to folks like you who rescued him and allowed me to adopt him. Thank you so much.

$50
Kathy Girone
Thanks for all you do for the doggies!
$25
Cynthia Smee
In honor of Eli Mowrey and in memory of our 15 year old golden rescue, Toby (in Pennsylvania). May this little offering help a dog in need.
$500
Jim and Carol Adler
$250
Linda W Johnson
We wish you the merriest of Holidays!
Brian, Linda, and Hannah ( A beautiful blonde girl adopted from GRRCC in March 2010)
$50
Michelle Springhetti
In honor of Bionda, my Golden.
$50
Wylyn Doherty
$50
Steffani and Joe Hardesty
In honor of our sweet 10 1/2 year old rescue, Mulligan and all the wonderful work of the GRRCC!
$10
Patricia Manzi
$25
Jeannine Kring
$100
Susan Stephens
Thank you for allowing us to adopt Abbey (Hattie) and Walter (Buddy). Nothing beats a rescue and Goldens are the best!!!
$50
Dru Meier
$50
Lynnea Pulver
Paisley says THANK YOU for everything that you do!
$50
William Kripicka
$50
Eileen and David Shleffar
In memory of our sweet Jazz, who brought us so much joy and laughter for many years!
$25
Becky Kaufman
$50
Bonnie Blum
$10
Kris Burke
In honor of Lady Sarah, adopted in 2009
$10
Kris Burke
In honor of Blossom, adopted 2015
$50
Judy Laedlein
I will forever be thankful for the precious years I had with Lucy my beautiful and wonderful golden retriever rescued by GRRCC. Keep up the great work.
$100
Melanie Perry