Ace the strong and the brave!
Lucky Ace has found his Forever Home!  Though this goofball is a bit long in the canine tooth and has medical issues he still has plenty of love to licks to give.  GRRCC wishes Ace and his new family many wonderful times in his "Golden Years"! 
---
Please share and help us find Ace a home!  GRRCC is looking for the perfect match for Ace. Please carefully read Ace's bio and then contact GRRCC if you can help.  Send inquiries to info@grrcc.com
Ace has been at the rescue for 7 weeks.  This loving, sweet, goofball just needs a special family to understand him and work with him in his retirement.  Might you be his family?
---
Foster Update on Ace 7/29: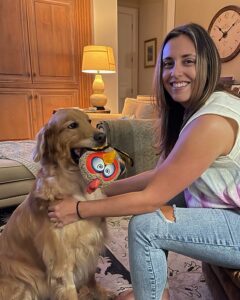 Ace attached himself to my daughter when she was home for a a week-long visit.  He stayed with her pretty much all day wherever she was and slept in her room every night.  After the visit Ace went upstairs to sleep in her room again but it made us sad that he would wait in vain, so we called him down and he slept perfectly fine in our room.
He likes to chew up toys if he's bored. He nibbles small holes.  He pulls at the seams.  He's very methodical.  Then he throws his paws over it like 'whaaa you don't need to take this.  Nothing to see here'.
He's very easy to manage. He hasn't barked at all in the house, except a bit when someone is at the door, just normal and he is happy to be relieved of the duty when I say 'thanks, Ace, I got this'. He just returns to whatever he was doing.
He want to be petted a lot but knows 'go lay down'.  I've cleaned his ears and brushed him every day which he loves.  He looks like a stuffed toy face.  Fur sticks up all over his head and neck even though I'm always trying to brush it down.  He doesn't like his feet messed with too much but is getting better.
Ace loves chasing the balls outside but won't bring them back. He likes chasing birds and squirrels too.  He is now very quiet inside and outside. And he's very well behaved. We have one little barking dog next door and a big one a few doors down, but he hasn't responded.  No barking. No drama. I kind of think he's a bit terrified of other dogs, but if he feels safe with us, he doesn't react. This seems to be the pattern that the behaviorist identified.  He's been bullied and possibly hurt and he's taking no chances, so he plays the tough guy.
---
Ace is an 8.5-year-old neutered male Golden Retriever that weighs 74 lbs. Ace is a sweet, sensitive spirit that adores people.  He has had 2 cancerous masses removed from his thyroid and larynx.  The oncology vet feels that with proper care, nutrition and healing that Ace can happily live a few more years.  Ace will need periodic visits with an oncologist to address and monitor his health. GRRCC will pay all expenses, including medical, while Ace remains in foster care. If you want to adopt Ace, we will continue to pay for ongoing cancer care.
Ace is reactive with other dogs.  He spent several hours with an experienced canine behaviorist to get a better understanding of his temperament.  Ace must be an only pet in his household – no other dogs and should not be with cats or small children.  In his early life, Ace picked up bad habits (barking at other dogs) and often feels like he is in danger.  At the same time, Ace is courageous and will try to take control and be stubborn.  He is crate trained and behaves perfectly inside the home.  A true sweetheart!
With a savvy person that Ace can trust to be the leader and shield him from any perceived danger, he can relax and live out his remaining life as a sweet and loving golden companion.
Requirements for Ace's Place:
Applicant must have no pets (this includes cats and dogs)
Applicant must be willing to take Ace to medical appointments
Ace will need a person at home most of the day
Ace will need a fenced yard and needs to be monitored any time he is in the yard if your neighbor's have dogs on the other side of the fence
If you meet these requirements and want to be considered as a permanent foster match for Ace, please send an email to info@grrcc.com and let us know more about you and your home. Thank you!