2019 Donate and Decorate Results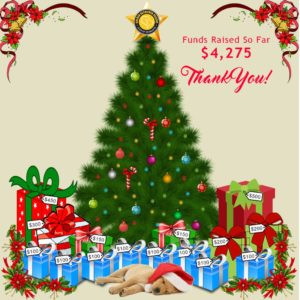 Thank you so much for your kind and generous gifts to decorate the Golden Retriever Rescue Club of Charlotte's holiday tree during our "Donate and Decorate" year end fund raiser. Thanks to your generosity we received 51 donations totaling $4,225.
We are beyond grateful for your support of our mission. While not every Golden Retriever that finds their way to us is in need of extensive veterinary care, we are fortunate to be able to provide that care to those who do need it. From intake, to rehabilitation and fostering, and to the point of adoption, the "rescue process" can be as short as a few weeks to many months. It truly takes a village to help these sweet souls along their journey of ultimately being matched with their perfect forever family. Through your donation, you are part of that journey, and we thank you for that.
On behalf of the Golden Retriever Rescue Club of Charlotte, it is an honor and with gratitude to receive your gift.
| Donation | Donor | Comment |
| --- | --- | --- |
| $100 | Kathie and Raymond Lynch | |
| $100 | Elaine and Joe Bruno | I'm loving memory of our hospice foster Mikey, miss you sweet boy. And to help toward Samson's MRI expense. |
| $25 | Meg Roach | In memory of my sweet GRRCC boy, Jack, and in honor of all the dedicated volunteers. Thank you for everything you do to help the dogs. |
| $25 | Meg Roach | In memory of Gene Fitzpatrick who so often said "It's all about the dogs". |
| $200 | Rick & Marsha Gross | In memory of Wylie, Barkley & Brinkley and in honor with love and affection to Lucky and all the other rescues!!! |
| $25 | Campbell Brasington | |
| $25 | Katelyn Barringer | Sending love to these sweet fur babies, who are the gifts that keep on giving! |
| $50 | Lesley Pollio | In memory of Lisa Cassidy |
| $50 | Shannon Costner | We love our Bailey that we rescued a few years ago from y'all! I love the work that y'all do:). |
| $50 | Susan MacDonald | In memory of Cassie, Rosie, and Harlow. |
| $25 | Melinda Rose | You have a wonderful organization, we lost our almost 12 year old Hunter to cancer in June. I met one of your volunteers who came and picked up some items your rescue could use. |
| $50 | Scott & Dru Meier | In memory of sweet Tyler, our first golden boy. |
| $50 | Scott & Dru Meier | In memory of our beloved GRRCC rescue Bobo. |
| $50 | John Layton | We were lucky to have 2 Golden Sadie and Maggie from CRRCC over the years. And very thankful !! Merry Christmas and Happy New Year. |
| $25 | Tommy McDonell | I normally give to Neuse River but I do support you all too. I love my dogs and people who help. Should you need an Art donation let me know. |
| $450 | Bob and Barbara Dortch | In memory of Pumpkin and Kasay, and in honor of Sammie and rescue Maxx ("honor" may be a stretch for 7 year old Sammie who still thinks she's 2). You were kind enough to let us rescue Maxx at 7 and he's a couch surfing king. Thanks for all the volunteers do for these wonderful family members. Maxx is doing great and continues to get good check ups |
| $50 | Ron and Mary Dwyer | You guys are the best! |
| $50 | Paula Barr | For the wonderful dogs and volunteers |
| $100 | Annette Celender | We are making this donation in honor of Nancy Truesdale and her forever love of golden retrievers. Merry Christmas Nancy! With love, Anni and Mary |
| $300 | Jim & Carol Adler | Thank you to all the hard working GRRCC volunteers that help so many Golden Retrievers every year. |
| $500 | Mark Petersen | In memory of Jack, my GRRCC Golden. Thank you all so much for all you do. |
| $50 | William Krupicka | In honor of honorary GRRCC Golden, "Jayce." |
| $25 | John and Rhonda Yoder | Thank you for all you do! |
| $50 | Kathy Girone | In memory of my golden rescues Molly and Dora and my current Rescue Holly. Merry Christmas and hopefully a great Golden New Year! |
| $50 | Jenn Osborne | |
| $50 | Catharine Lees | I have adopted 3 goldens from GRRCC and each was a true love. Two were seniors and I hope to adopt again sometime. Thanks for all your work saving these most wonderful goldens! Merry Christmas and Happy 2020! |
| $25 | Brittney Tysinger | Thank you so much for everything you have done for these dogs, but especially Angel. This donation is in her honor. |
| $75 | Jennifer Lowe | In honor of our sweet Nick who was saved by GRRCC |
| $50 | Mike and Wylyn Doherty | In memory of our sweet GRRCC boy Coal. |
| $100 | Chris Beloni | |
| $75 | Dru Meier | In honor of Lexi & Doozle Meier, two of the most spoiled rescue goldens on the planet! |
| $100 | Robert Van Dolah | In honor of Callie |
| $200 | Alison Rowe Iglehart | In honor of our 17 year old girl, Tina who came to us from GRRCC. Thank you for always being there for these precious Goldens |
| $250 | Rick & Marsha Gross | |
| $10 | Kathy Heaps | Thank you for all the wonderful work you do helping these beautiful Goldens. If it weren't for GRRCC I would not have my velcro Goldie, Maddie! |
| $25 | Denice Lyon | In memory of our GRCC rescue Rustina! |
| $100 | Kelly Garity | One of the best Golden rescues! |
| $25 | Seth and Rebecca Kaufman | |
| $25 | John and Kris Burke | In honor of Blossom |
| $25 | John and Kris Burke | In honor of Lady Sarah |
| $150 | Jim/Susan Sandberg | |
| $25 | Dru Meier | |
| $25 | Dru Meier | |
| $100 | Bruce & Claire Gasparre | |
| $50 | Steffani Hardesty | |
| $25 | Mike Hanna | |
| $25 | MaryAnn Kavanagh | God love these precious Goldens and bless everyone at GRRCC. I completed an application and can't wait to adopt from you again. Buddy, my 11 year old golden lost his companion Cassie to cancer and is so lonesome. |
| $150 | Joni Deditch | Love the work you do. God bless you all and the precious Goldens |
| $100 | Christine Apriceno | In memory of Gene Fitzpatrick |
| $50 | Shellie Miner | In honor of so many sweet goldens that I have been blessed to foster and love. |
| $10 | RJ Miner | This small test donation is in honor of my small late best buddy and GRRCC hospice foster, Shorty |