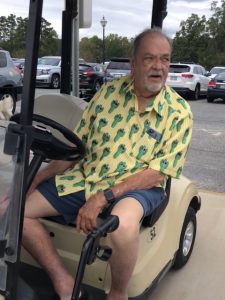 We are very sad to share the news that long-time GRRCC club member and friend, Dick Griffin, recently passed away. Dick was a dedicated volunteer and generous contributor, even serving as co-chair of our annual charity golf event for many years. We will remember Dick for his kindness and humor, as evidenced by his penchant for Hawaiian shirts! Dick was preceded in death by his beloved wife of 54-years, Ellie, and their many Goldens. He is survived by his daughter Leigh and his son Chris, their spouses and grandchildren, and countless friends.
Dick was always the life of any party, so his family will be celebrating his life with just that, a big party. So put on your Hawaiian shirts or Tar Heels attire if you plan to join the celebration:
Saturday, August 20, 2022
3:00 – 6:00 p.m.
The Club House at Tree Tops
2198 Arcadia Falls Lane
Lancaster, SC 29720
Rest In peace, Dick.